Not sure what to wear?
Here's how to love the way you look in our next photo session together.
I know you want to look amazing and feel confident and fabulous during your photo session- who wouldn't? But does the idea of finding the perfect coordinating outfits sometimes feel more difficult than writing a Shakespearean sonnet? I mean, really. Why does the thought of entering an H&M with the goal of different but complementary outfits for all make us want to curl up in the fetal position take a nap? We can do this, and I'm here to make sure you LOVE the way you (and your fam) looks at your session! Here's the 4 most important things you can do when planning out your photo sesh ensemble:
1. You Pick First
2. Don't Go Color Crazy
3. Texturize
4. Keep it Real
Okay, ladies, this is for you. The first priority needs to be you finding something to wear that you feel awesome in. No matter how adorable your kiddos are, if you aren't comfortable and confident and feeling great, you won't be 100% satisfied with how your images turn out. Start the whole clothing party by pulling out of your closet the piece that make you feel the most beautiful, and build your family's outfits around that. This is all about getting you in the frame, right? And I want you to LOVE how you look and feel in these photos! And just to repeat (because it is SO stinking important): at the end of the day, the most important thing is that you wear what makes you and your family feel the best in. Your confidence will really shine through in your photos
DON'T GO COLOR CRAZY… GO PATTERN CRAZY!
As for the family as a whole, try to find a color palette that you love that contains 2-3 main colors and choose different outfits that compliment each other within those colors. If everyone is wearing similar colors, then you can be creative and go a little crazy with the patterns. It's super fun when everyone has a unique look within the colors you have chosen. Believe it or not, polka dots and plaid CAN work together like a charm! As long as you are staying in the land of just a couple colors, you can feel freedom to let each kiddo (and the grownups, too) express their unique style and preferences.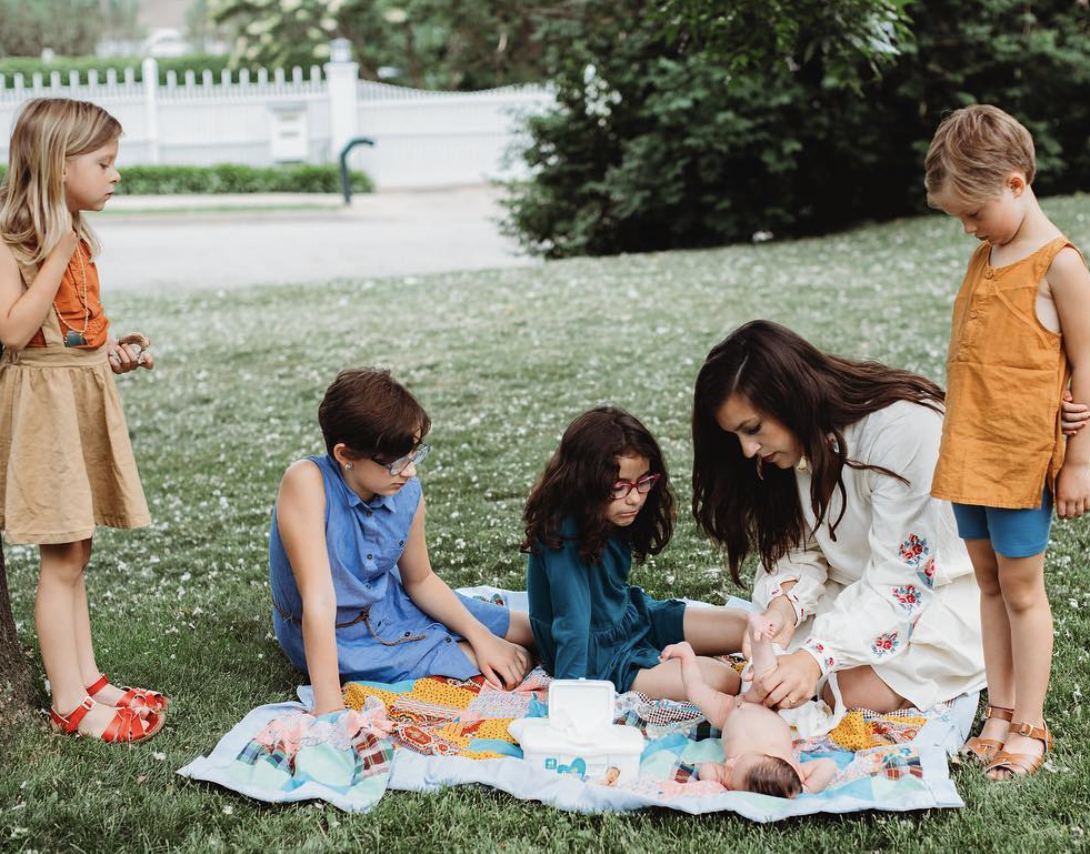 Try to figure out a way to incorporate more than one type of fabric. A chunky knit sweater, a scarf with tassels, patterned tights, a winter hat with a big fluffy ball on top- all of the little elements of texture that you add into a photo give it interest and depth. Even a wooly blanket to cuddle in can do the trick. The more different types of fabrics and materials you can add in, the better!
If you are still not sure where to start in picking out your outfits, just remember this one thing- these are supposed to be real pictures of your real family! As long as you can still recognize your kiddos (and yourselves) through outfits you select, you can't go wrong. Because truly, maybe you just need to let that little one wear his favorite Batman costume for family photos this year. They will probably end up being far more beloved than any other photos you own! If clothing ever becomes a battle, I always vote to let the kids wear whatever the heck they want. I'll take kids in sweatpants looking gleeful in a photo over grumpy fancy looking kids any day!
You've got this!! I can't WAIT to see you for your session soon!